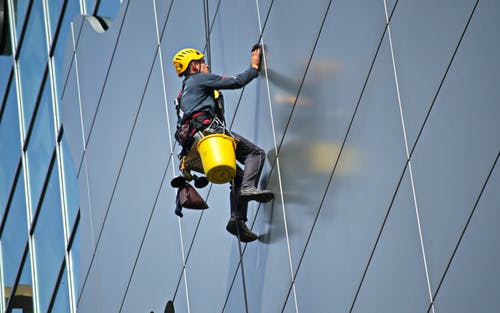 If you're looking to hire a window cleaner for your home, commercial property, business or rental, there are some key things you need to know. It can be easy with life's competing demands to forget to check important details. Avoid contracting the wrong person for the job, by asking these questions first.
1. Do they have suitable equipment for your property?
It may seem like a moot point – surely every window cleaner can cover every window? This actually isn't the case. Many traditional-style ladders are ineffective for harder to reach nooks and crannies. If you have a 1st storey (or higher) window above an extension or outbuildings, it may be impossible to clean effectively without a water-fed pole.
2. Are they fully insured including public liability?
What happens in the unfortunate event of someone being hurt in the process of the window cleaning (including the window cleaner themselves). Who is liable? Established companies should all have comprehensive cover, but always check. While anything going wrong is highly unlikely, far better to be safe than sorry – particularly if the cleaning is happening in a high traffic area.
3. Have they received health and safety training?
For the same reasons as insurance, it's important operatives are properly trained. If working at a great height (such as large office blocks and tenements) and using specialised equipment this is very important.
4. How much do they charge and how are they paid?
It might seem simple, but get this in writing. Door to door window cleaners may vary their prices or only take cash. If you have proof of an agreed price, this protects you.
5. How often will they provide the service?
With commercial agreements, there can be a lot of variance on this according to requirement. Domestic cleans tend to be carried out on monthly rounds. Avoid any surprises by asking upfront and being realistic about what you need.
A good provider should automatically cover these points. But it's always worth checking. Get in contact with us by phone or message if you're looking for a window cleaner in Scotland or Northern England.