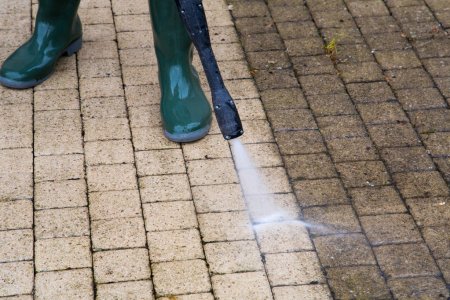 As winter draws to a close this month, your thoughts may turn to your patio, driveway and building exteriors. With a build-up of moss, debris and ingrained dirt it'll take more than a scrubbing brush to restore your surfaces. But should you do it yourself, or bring in the professionals?
Pressure, or power, washing can be transformative. By removing layers of muck, colours can be revived and previously hidden details revealed. If you are responsible for any outdoor surfaces, it's wise to pressure wash at least annually. You have three options as to how you can do this. Buy a pressure washer
Buy a pressure washer
The cost of this will vary enormously, with average prices starting around £80 and extending to over £400. Having your own will mean you can use it year on year. However, the machine will not be as powerful as those used by professionals, or those available to hire. This means it won't do as thorough a job and you may end up having to resort to option two or three. If you do decide to DIY, ensure you read and adhere to all safety guidelines. Even a low-pressure machine jet can be hazardous to you and your property if not used properly.
Hire a pressure washer
This has the benefit of being more affordable on a one-off basis. And you can get a relatively high-pressure machine. The downside is that powerful kit has the capacity to do a lot of damage. If your surfaces are older, or in any way delicate, you can inadvertently cause pitting and lines – unless you already have training or skill in this area. In addition to the hire cost, factor in the time it'll take you to do the job, as well as collecting and dropping off the equipment at the hire store.
Contract a specialist pressure washing company
The price of this will depend on the area you need to cover. However, it will offer the best outcome of all the options and may well end up costing less in the long run. Professional power washing is far more effective and uses higher pressure machines than those accessible to the general public. This means that there's no use of harmful chemicals – keeping pets and the environment safe. And with pressure wash jets powerful enough to cut through wellington boots, it's far safer for you to leave it to us.
If you're considering one of these options and are based in Scotland or northern England, we can supply you with a no-obligation quotation and a full site survey. You'll be amazed by the results.