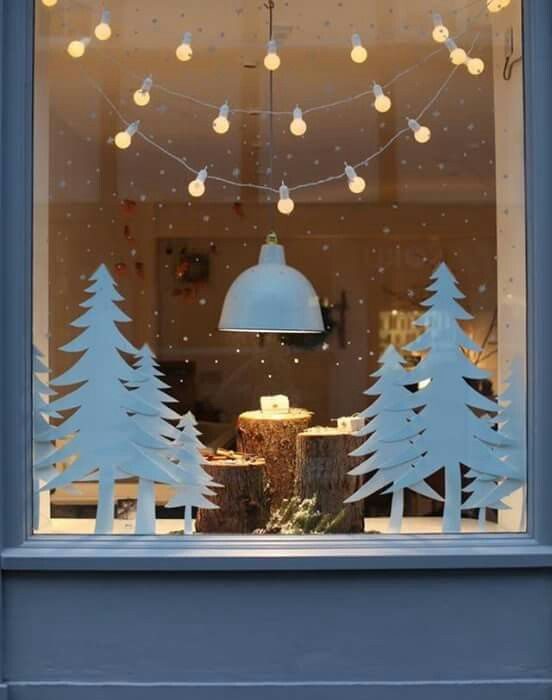 It's the most wonderful time of the year. It's also the time of year that we make the most effort with our window displays.
One of the best things about the festive season, is passing flats and houses after dark and catching sight of lit Christmas trees in homely living rooms, or enjoying the spectacles on offer in the windows of big department stores and independent boutiques.
Whether at home or at work, it's easy – and very fun – to make your windows look magical this December. Here's some ideas that'll help create a truly head turning display, that'll go beyond the pane. 
Window Decor
You can use your window to frame what's going on inside, make the window itself a feature – or both. Fairy lights are a must, adding an instant glow, providing warmth and illuminating your display. These don't have to be standard style though, with variations available in all sorts of colours and designs to fit your look.
Consider using transfers or spray on snow, particularly if you have children in the home. A fibre optic tree is a quick and easy way to inject a variety of colour into your window area. Or for urban chic ideal in warehouse style apartment windows, fashion your own contemporary version from twigs, bare wood, or wire.
If your windows are your business shop front, then it might be worth employing the services of a professional designer to ensure kerb appeal that'll draw footfall to your door. Or take some time to scour Pinterest for the best ideas, and get crafty yourself.
Clean and Clear
When it comes to making any part of a building look good though – indoor or outdoor – tip top cleaning is the first place to start. At no other time of year are your windows so on show. Do the groundwork and the extra embellishments you've taken such care over will shine all the more.
So before you put all your time, effort and cash into decorations, first invest some of it into making sure your glass is perfectly clean and streak free. Create a frame for your display that'll really do it full justice and impress your guests or customers. Whether it's for your home, or commercial premise, we love to get your windows looking their best – and that's not just for Christmas. Put perfect windows on your Christmas list and
drop us a line or give us a call at SPM
.