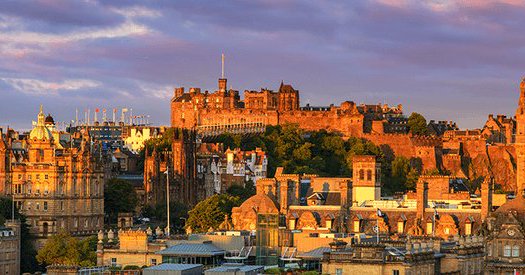 From the shore of Leith to Kings Know on the other side of the city and from Musselburgh in the east to Kirkliston in the west, Edinburgh is a sprawling metropolis that incorporates 32 council areas and a population of over half a million.
For many Edinburgh window cleaners, servicing the city is a full-time job in its own right. While some window cleaning specialists, including SPM, also rove further afield (we cover Glasgow for example), many elect to stick with Scotland's capital.
If you're considering hiring a window cleaner, Edinburgh presents no shortage of options. For both domestic and commercial situations, there is a number of companies to choose from, all of whom will doubtless be only too willing to take your business. Before you reach for the phone or click any further, take a moment to peruse the following checklist. If your prospective Edinburgh window cleaner ticks all of these boxes, you can then proceed with complete peace of mind, knowing you'll be hiring a reputable and capable company.
Does your window cleaner apply quality control?
Quality control simply means that your commercial or domestic window cleaner cares about the performance of its staff and takes steps to ensure their work is up to scratch. This isn't simply about their ability to buff a pane of glass till every speck of dirt has been vanquished: it also means checking that staff comport themselves in a manner that is befitting of professional tradespeople while on the job. Reputable Edinburgh window cleaners won't just pay lip service to quality control – it's something they'll perform on-site on a regular basis.
Does your window cleaner offer a range of cleaning techniques?
While a traditional bucket and ladder will suffice in many situations, not all buildings are suited to such an approach. For high or hard to reach windows, a waterfed pole system will be required or possibly even a scissor lift and hydraulic platform. For commercial window cleaning jobs especially – plus high-rise apartments – such equipment is often the only way to clean windows. You'll want to ascertain this sort of stuff now to avoid the disappointment of calling out a window cleaner only to learn that they're unable to service your windows.
Can your window cleaner offer a range of additional services?
While they're up there, how about getting them to clean your gutters? And what about your solar panels, stone surfaces and timber decking? While some Edinburgh window cleaners focus solely on windows, others offer a complete cleaning and maintenance service. Although you might not require these services on a monthly basis, having a trusted contractor you can call upon once a year to perform general maintenance and cleaning tasks is extremely convenient. Some window cleaning firms also offer stair cleaning, including communal areas, enabling a crew to tick off a range of tasks in a single site visit.
Is the Edinburgh window cleaner you're contemplating fully insured?
The answer to this question should almost certainly be "Yes" but don't assume as much – ask them. Local window cleaners should be fully insured against damages and be trained to adhere to window cleaning regulations. After all it's not just about getting the job done competently: it's also about getting it done safely. Accredited Edinburgh window cleaners should have public liability insurance and staff should be kitted out with protective equipment and clothing, to protect their own health and safety as well as that of the general public.
If the Edinburgh window cleaning company you're considering ticks off all of the foregoing boxes, go ahead and get in touch. They've clearly got the right skills and qualities for the job. Now all that's left to negotiate is the price.